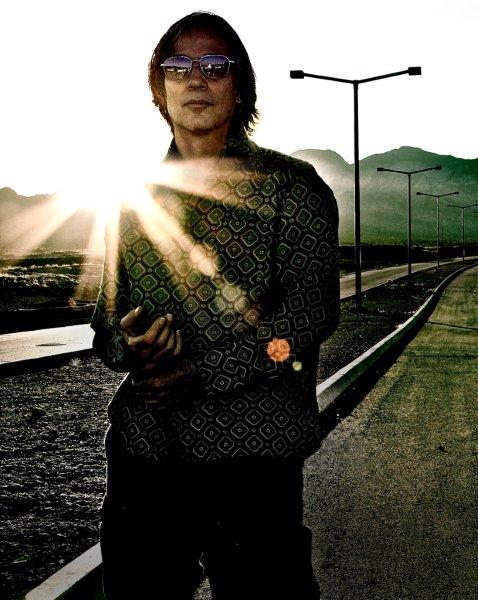 JACKSON BROWNE ADDS NEW FALL DATES TO 2011 SOLO ACOUSTIC TOUR
LOS ANGELES, CA, June 1, 2011: Singer-songwriter Jackson Browne has extended his 2011 Solo Acoustic Tour with an additional string of U.S. dates this fall, adding dates at the Flint Center in Cupertino and at the Marin Center in San Rafael. Tickets go on-sale July 15 at 11:00 A.M. for San Rafael and August 12 for Cupertino at www.RBPconcerts.com.
Jackson Browne's 2011 Solo Acoustic Tour began in February.  Playing guitar and piano, he plays songs spanning his entire body of work, with varying set lists each night.  One of the many guitars Jackson has brought on the road this time out is the just-released Gibson Acoustic Jackson Browne Signature acoustic guitar.  The handmade instrument, inspired by Gibson's legendary 1930s-era Roy Smeck model, is the first guitar to bear Jackson Browne's name.
The intimacy of Jackson's solo performances has been captured on two live albums—the GRAMMY®-nominated Jackson Browne—Solo Acoustic, Vol. 1 (2005), and Jackson Browne—Solo Acoustic, Vol. 2 (2008), both released on Inside Recordings.  In Rolling Stone's four-star review of Vol. 2, Anthony DeCurtis wrote, "Between songs, Browne speaks about his life and music with moving candor…This is Browne at his best, engaging his audience, his own experiences and the world around him, all in songs that will not lose their resonance any time soon."
In 2009 and 2010, Jackson's tours served as proto types to Bandit Lites, using 100% LED rigs, which helped the development of the new GRNLite technology.  Using GRNLite technology, the Bandit Lites' rigs greatly reduce energy consumption.
Jackson's tours strive to be plastic-free both onstage and backstage.   It's estimated that since 2008—through approximately 150 band shows and 100 solo acoustic dates—his tours have saved more than 53,438 plastic bottles from landfills and ocean gyres.  In 2010, Jackson joined with Brita's FilterForGood movement, making Brita Hydration Stations available to dispense filtered water, free-of-charge, to concert attendees.  Jackson is a member of the Plastic Pollution Coalition (www.plasticpollutioncoalition.org), a global alliance of individuals, organizations and businesses working to stop single use plastic and its toxic impacts on humans, animals and the environment.
For more information:  www.jacksonbrowne.com
Jackson Browne 2011 Solo Acoustic Tour Dates:
DATE                   CITY                                VENUE
8/21/11                Lyons, CO                         Planet Bluegrass Folks Festival
9/23/11                Interlochen, MI               Interlochen Center for the Arts
9/24/11                East Lansing, MI             Wharton Center
9/26/11                Akron, OH                         EJ Thomas Performing Arts Hall
9/27/11                Columbus, OH                   Palace Theatre
9/29/11                Pittsburgh, PA                   Heinz Hall
9/30/11                Rochester, NY                   Auditorium Theatre
10/2/11                Utica, NY                            Stanley Center for the Performing Arts
10/3/11                Albany, NY                         Palace Theatre
10/5/11                Portland, ME                      Merrill Auditorium at City Hall
10/6/11                Worcester, MA                   Hanover Theatre for the Performing Arts
10/8/11                Waterbury, CT                   Palace Theater
10/9/11                York, PA                              Strand Capitol Performing Arts Center
10/11/11              Reading, PA                         Sovereign Performing Arts Center
10/12/11              Westbury, NY                     Theatre at Westbury
10/14/11              Westhampton Beach, NY  Westhampton Beach Performing Arts Center
10/15/11              Montclair, NJ                       Wellmont Theatre
10/17/11              Morristown, NJ                    Community Theatre at Mayo Center for the Performing Arts
10/18/11              Red Bank, NJ                       Count Basie Theatre
10/20/11              Wilmington, DE                    The Grand Opera House
10/21/11              Baltimore, MD                      Lyric Opera House
10/23/11              Washington, DC                    Warner Theatre
11/3/11                Chico, CA                                Laxson Auditorium
11/4/11                Redding, CA                            The Cascade Theatre
11/6/11                Arcata, CA                               Van Duzer Theatre
11/8/11                Cupertino, CA                        Flint Center
11/9/11                San Rafael, CA                        Marin Center
11/11/11              Turlock, CA                              Turlock Community Theatre
11/12/11              Hanford, CA                             Fox Theatre
11/17/11              Gaviota, CA                              Benefit for Vista de las Cruces School
http://rbpconcerts.com/wp-content/uploads/2015/09/header.png
0
0
Rick Bartalini
http://rbpconcerts.com/wp-content/uploads/2015/09/header.png
Rick Bartalini
2011-06-09 00:45:46
2011-07-21 12:43:48
THIS FALL JACKSON BROWNE WILL APPEAR FOR THE FIRST TIME IN MARIN COUNTY, CALIFORNIA